This summer was no vacation for Brandon. In fact, it was a whirlwind. 
In just ten weeks, the Missouri State University junior had the opportunity to shadow physical, occupational, respiratory and speech therapists, physician assistants, a radiologist, a cardiologist and a few surgeons at SSM Health De Paul Hospital. He's learned to apply ice packs after physical therapy, take vital signs and help with IV poles and oxygen tanks.  
Brandon's one step closer to achieving his dream of working in the medical field thanks to a $200,000 investment from Wells Fargo Advisors into youth workforce development programs. Through a partnership with United Way of Greater St. Louis, Wells Fargo Advisors awarded funding to three local nonprofits to provide skills training, financial education and work experiences for local youth, allowing the organizations to place 110 additional young people in summer and fall jobs this year.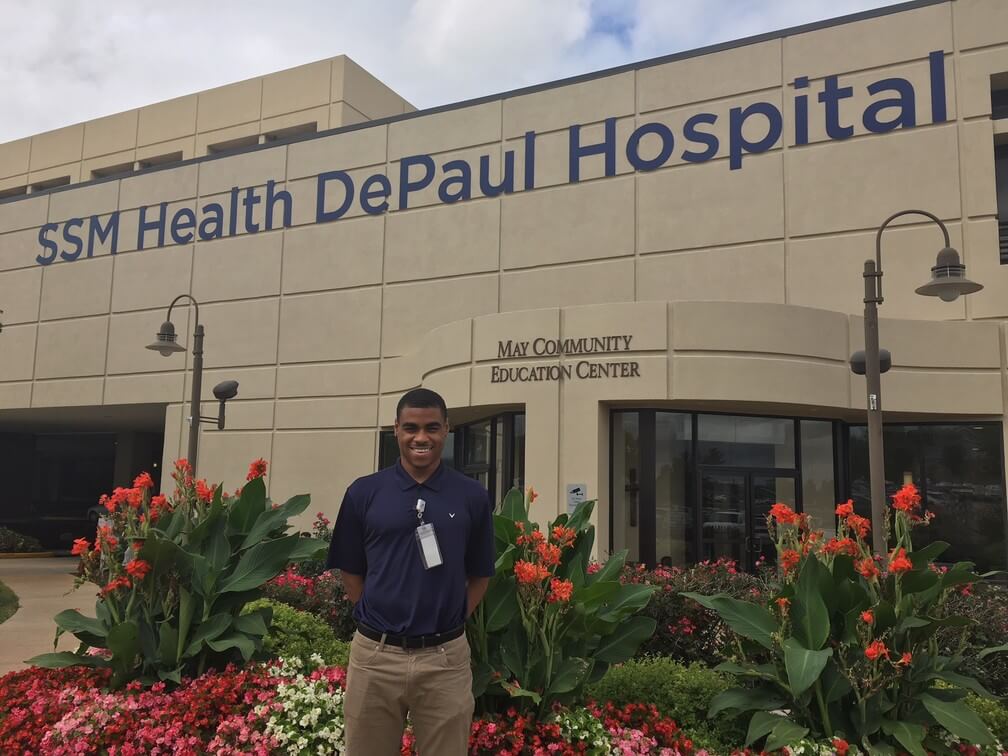 Brandon was placed into his summer position through one of the grantees, STL Youth Jobs, which matches participants with job coaches from MERS Missouri Goodwill Industries, a United Way supported agency. STL Youth Jobs provides individualized career assessment, financial literacy, job readiness training, paid employment experience and career support for at-risk youth ages 16-24.
The program provides a step up for young people who don't have the connections or opportunities to point them toward a career. For Brandon, the inside look into the jobs of so many medical professionals opened his eyes to career possibilities he'd never imagined.
"There aren't really opportunities to actually see what's in the medical arena," Brandon said. "This summer I got to see it all, first-hand, up close and personal."
It's all part of an effort to combat St. Louis' growing skills gap – the divide between people looking for work and the skills necessary to get a job. Of the more than 700 young people STL Youth Jobs served this year, 80 percent had been looking for a job for three months or more, and half had never had previous work experience.
"I'm excited that our work with United Way is helping the youth of the St. Louis region get the skills they need to prosper," said David Kowach, president and head of Wells Fargo Advisors. "The region's economy is only as strong as its workforce, and our investment and these programs serve as bridges between employers who are hiring and youth who need work."
To fill this gap, the program recruits young people from at-risk neighborhoods who face different barriers to finding a keeping a job. Some need a paycheck to help support their families. Some are young parents or struggling with homelessness. Some don't know how to fill out employment applications, and some have never even envisioned a career for themselves because their parents never held stable jobs. 
"If they've never worked before, they don't really know what they want to do," said Xia Simmons, lead job coach for STL Youth Jobs in North County. "They need help setting those goals and seeing where they want to go."
During the program, the youth gain more than just a paycheck. Young people who work are more likely to graduate high school and attend college and less likely to contribute to juvenile crime. Summer jobs also teach them how to work on a team, empathize with others, resolve conflict and manage their time. And the youth learn a great deal about themselves, too, Xia says.
"They figure out different things they did on the job that they were good at and understand themselves as an employee and the type of environment they could thrive in," she said. "By the end, we use this experience to help determine what jobs to apply for in the future."
Along the way, the program also introduces youth to mentors who help them navigate the work world: how to dress, how to speak to superiors, how to grow in their chosen fields.
In Brandon's case, he ended up finding three mentors who gave him the tools to take control of his own future, including his supervisor, a physical therapist who quizzed him on medical terminology; a surgeon who offered to write him letters of recommendation in the future; and Paul, a physician assistant who took a special interest in Brandon's career.
From his first day shadowing with Paul, Brandon knew he wanted to learn more about Paul's job. Paul met with Brandon to help him create a plan to get into nursing or physician assistant programs: the letters of recommendation he'd have to get, the admissions counselors to get in touch with and everything he would have to study.
"I knew there was a process for getting into physician assistant programs and nursing school, but I didn't know what they consisted of," Brandon said. "He took it upon himself to show me how to get admissions-ready. This summer I've experienced so many people that whole-heartedly, genuinely believe in me."
Now, Brandon has a renewed motivation to tackle his last two years of college and beyond.
"It's a powerful feeling to see that there are people who are where I want to be in life," Brandon said. "It gives me a sense that I can do this. No goal is out of reach."
About MERS/Missouri Goodwill Industries
MERS Goodwill's mission is to provide opportunities for persons with barriers to employment to work and live more independently in the community. It offers career counseling, skills training, education and literacy programs, employment services and more. Its vision is a community where each individual has the opportunity to learn, work and achieve their greatest potential. MERS Goodwill has been a United Way supported agency since 1941.
About STL Youth Jobs
STL Youth Jobs envisions a city where our youth have the opportunity they need to succeed and our businesses have the workforce they need to compete. It bridges the divide between our region's youth and the growing skills gap in our workforce. It accomplishes this by training youth to be ready for the jobs of tomorrow through individualized career assessment, financial literacy and job readiness training, employment experience and continuing career support.
Take action now:
Share this story with friends and family!