People You're Helping Here in Greater St. Louis
The St. Louis region is our home. We all want to be a part of a thriving community and your support plays a big part in Helping Here. Your support of United Way helps 1 in 3 people across 324 ZIP codes. That's 1 million people living in our region.
Your United Way support helps people like:
Jonah's building blocks for the future
Jonah has been at Cornerstone Center for Early Learning since he was 6 weeks old. Jonah's mom, Jordan, works full time and is studying to become a nurse – all while raising a young child. Supported by United Way, Cornerstone has provided a safe place for Jonah where he can grow and learn. They are helping him with the building blocks for his future – cognitive, social, memory and so many more skills! "It truly does take a village to raise a child, and having an environment where he can go, that loves him, it really means a lot," said Jordan.
Jessica's helping hand
The COVID-19 crisis has affected our community in many different ways. For Jessica,* she lost her income and couldn't afford to pay for crucial medications for her Lupus. With support from United Way and Lupus Foundation of America's Heartland Chapter, Jessica was able to cover the cost and continue living her best possible life.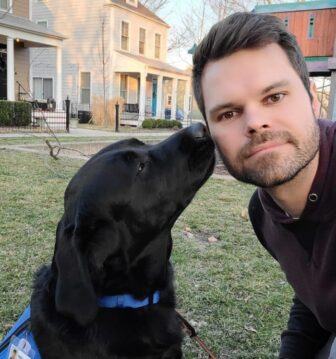 Nick and Chumley: The perfect duo
Nick, a veteran living with PTSD, was having a hard time with his quality of life and time he could spend with his loved ones. He was experiencing night terrors and having trouble being in public with others. Nick connected with United Way supported Duo Dogs' K9 Bridge 4 Heroes program, which aids clients on their journey to adjusting and coping with life after trauma. Chumley, Nick's support dog, has helped him be more confident being in public, traveling with his family, and more. "I have been focusing on self-love and self-care and taking time for myself. Not sure I would be able to do it without Chumley," said Nick.
Mary's call for help
After Mary* lost a family member and the extra support she was receiving to care for another family member, Mary was unable to make payments to her home and was living in her car. In survival mode, she was connected to our 24/7 resource line, United Way 2-1-1. After talking with a trained resource specialist, she found help with food, affordable housing, counseling and more.
Rose's financial journey
Rose's* journey toward financial empowerment started when her family was at a crossroads – their landlord need to move back into the house they currently rented, and Rose had no idea how to find or afford another rental suitable for their family of seven. A United Way supported financial stability program gave Rose the help she needed to keep her family from becoming homeless – and build toward a brighter financial future.
Arissa's confidence boost
Arissa had been struggling in school and with low self-esteem. But United Way supported The SoulFisher Ministries was there to help her develop a plan for confidence and success. "When I doubted my self-worth, the staff would help me discover and sometimes rediscover who I was," said Arissa. Now, Arissa works at The SoulFisher Ministries and helps mentor younger students, encouraging them to never give up.
Every year, we help 1 million people in the St. Louis region. We elevate the entire region, and we help those who need it. This is what it means to be Helping Here.
TAKE ACTION NOW:
Share this with family and friends on social!