The holiday season is supposed to be a time for joy and celebration, but for some people throughout our local communities, it can be a cruel reminder of some of the things they lack. Many individuals and families don't have adequate access to basic needs such as food, clothing, stable housing, and more.
Though for over five decades, United Way's Community Christmas program has aimed to provide hope for our neighbors in need, giving them a reason to be joyous during what is the most wonderful time of the year. Community Christmas collects money, necessary household items, gifts for children, and more from early November to early December.
Some of the biggest supporters of Community Christmas over the course of the past 30 years have been Margaret Freer and her family. Generosity, passion for uplifting their community, and a tragic loss they suffered, fuel their charitable efforts and support for Community Christmas.
The family business
Margaret's son, David, dreamed of following in his grandfather's footsteps and going into the auto repair business. He graduated from Ranken Technical College in 1991 and was determined to start his own auto repair business.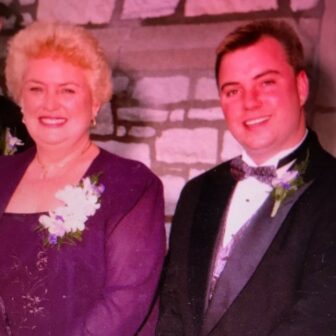 Margaret and her husband, Mike, helped him build a small, 30 x 50 building where Freer Auto Body was born. Within just a few years, the business blossomed. As Freer Auto Body continued to gain success, they felt the responsibility to be charitable and give back to a community that had given them so much.
"We were always involved in volunteering and community efforts, and when we opened the shop, we knew that the community was good to us and we had to give back," said Margaret.
David was generous to the community in many ways, but he was especially passionate about supporting Community Christmas. He would shop year-round for winter clothes and toys for children so when it was time for him to host a donation box for Community Christmas in November, his box would be overflowing with toys, hats, gloves, coats, scarves and so much more for local neighbors in need.
"He knew how fortunate he was, and he wanted to make sure every child had something under the tree at Christmas," said Margaret. "Every year our boxes kept getting fuller and fuller, and the volunteers that would pick up the boxes were amazed at how much we would be able to get."
David laid the foundation for the Freer's generosity during the holiday season by supporting Community Christmas, and when tragedy struck their family, they rallied behind the idea of lending a helping hand to a neighbor in need.
Continuing a giving legacy
In 2008, David was killed in an automobile accident.
The grief the family endured was immense. David's vision is what started Freer Auto Body and his passion for it is what helped the business continue to grow and thrive. Despite the heartbreak, the Freer family knew they had to honor David's memory by persevering through the pain and continuing to grow the family business.
"It was tragic, but we didn't have time to take time off to grieve, we had a business to run," said Margaret. "We all came in the day after the funeral and plowed through it. With the help of friends, family, and our faith in God, we were able to make it through."
The Freer family knew they also wanted to continue David's legacy of generosity and giving, so later that year in December, Margaret's granddaughters, Lily and Taylor, began their Cookies and Cocoa program to honor David. Local people came to the shop to drop off donatable items and enjoy some cookies and hot cocoa while they were there.
The very next year, Lily and Taylor began another program called Christmas in July where they would attempt to raise money for Community Christmas during the summer by selling lemonade, sloppy joes, and a few small raffle items. That year, they raised $2,500, and in the years since, the Christmas in July program has grown exponentially and is now one of Community Christmas' biggest contributors.
As word spread about Christmas in July, more local people and businesses began to participate, and now the program raises upwards of $50,000, including $57,000 this year. Once again, the community came through for them when they needed it.
"The community makes it what it is, we have lovely friends that donate prizes and sell raffle tickets, so they're the ones that truly make it a success," said Margaret.
Margaret is currently the owner of Freer Auto Body and a United Way auxiliary board member. Today, Freer Auto Body operates out of a 17,000 square foot building with some of the most modern equipment. In 2004 and 2013, they received the Riverbend Growth Association's Captain of the Riverbend award, and Taylor and Lily have been recognized as some of United Way's outstanding community volunteers.
As the Freer family's success continues to blossom, they'll never forget their humble beginnings, the importance of community and honoring David's memory by helping those who are in need.
Take action now: