This is what a 12-year mentorship looks like
When it all started, 6-year-old Johnathan was only as tall as Adam's hip. He was a little shy and dreamed of becoming a pilot. Adam had just moved to St. Louis to start his career.
Eager to find a way to give back to the community, Adam was matched with Johnathan through Big Brothers Big Sisters of Eastern Missouri's mentoring program. Neither of them knew it then, but that was the start of something big in Adam and Johnathan's lives.
Fast-forward 12 years and the two stand nearly eye-to-eye. Adam started a family of his own, and Johnathan has set his sights on becoming a lawyer. This fall, Adam will help Johnathan move into his dorm at Southeast Missouri State University. As Johnathan looks ahead to college, Adam wonders where the time has gone, trying to remember when he stopped needing to hold Johnathan's hand to cross the street.
Through it all, Adam and Johnathan have stuck together, even as their lives and relationship have changed over the years. We sat down with Adam and Johnathan to learn what a 12-year mentorship looks like and what the future will hold.
Adam, what made you want to be a Big?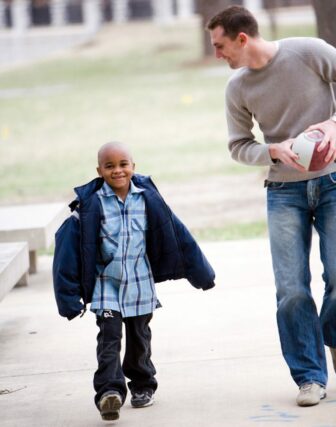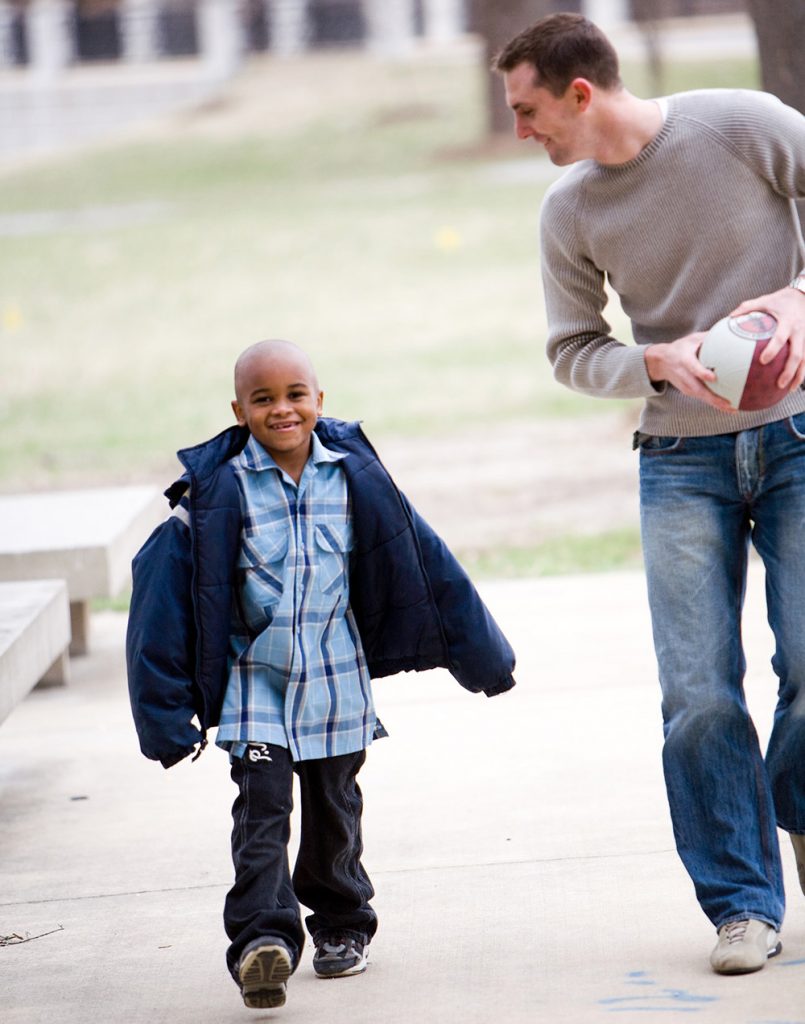 Adam: I had that first spark of interest in getting involved when I was living in San Diego, when I learned that Big Brothers Big Sisters is really looking for long-term commitments and how the Little benefits from the stability. Since being matched can be a process, I waited until I moved to St. Louis. I felt like the impact would be greater in this community than in San Diego. And I knew that I had a background that could help me make connections and build a relationship.
Once I got here, I took on a roommate who was involved in the program. That confirmed that I really wanted to do this. After all the paperwork and screening, it fell into place, and we were matched up.
What have been some of your favorite memories?
Adam: There were a lot of firsts for both of us. It was cool because I was new to the city, and Johnathan, you were my reason to be an adult and still get to go to the City Museum, Magic House, all those things. We got to do it together and check off all those activities.
Johnathan: Like when I was little and we took that picture at the Cardinals game.
Adam: Yeah, we took a picture in center field. It was probably 2007 because it was early in our match that we went to a game. I think it was your 16th birthday when we went back, and we tried to take the same picture at the same spot.
In the first one, I'm down on a knee, and we're at eye level. Then, in the next one, I'm down on a knee, and he's standing up, and he's so tall. And it's like, "Oh yeah, you've changed a little bit."
You've been matched for 12 years now. How have things changed or stayed the same?
Adam: There was a period of adjustment when I moved out to St. Charles and we no longer lived 10 minutes from each other. It was no longer as easy as saying, "Hey, be there in 10 minutes, let's go get something to eat," versus having it more planned out. But it's always been easy to pick up where we left off.
Johnathan's mother and I were always on the same page that schoolwork had to be done well. If we found out Johnathan had a rough week at school or got in trouble on the bus or whatever, then a plan to go to Six Flags would turn into a, "We're just going to McDonald's, and we're getting a couple of Sprites, and we're going to talk about what's going on at school." And those were important because Johnathan needed to vent about things that he couldn't talk to his mom about – that's natural.
Johnathan:  I was young. I didn't have the mindset that I have now. When I was little, I just didn't really care about what my mom was talking about, but now it's different. I really respect my mom now.
What did each of you learn from each other?
Adam: I think what really jumps out to me is perspective. We have different backgrounds, and I think there's a level of natural empathy that builds through a friendship like this. I think we always try to put ourselves in the other person's shoes. He sees things from my perspective of being a parent of two young children and working; I see things from his perspective, how challenging it can be to live in North St. Louis and some of the challenges youth face in our community. It's eye-opening.
Johnathan: It's always good to vent about a situation with someone else. He was a good person to go to because he's a different color, so I learned to see other perspectives. I learned to see his perspective, or my mom's perspective, about a situation. I understand why it's important because my mom goes through all these things – she has a disability, and she can't really do some things. I understand that now; I have a different mindset now.
I think I taught him that's it's OK to be busy. That's all right. Sometimes it'd be a two-month period where I hadn't heard from him. He'd call me and be so apologetic about it, but I'd tell him that it's OK. Because, I know that he has a child – two children now, and he works a lot. He travels a lot.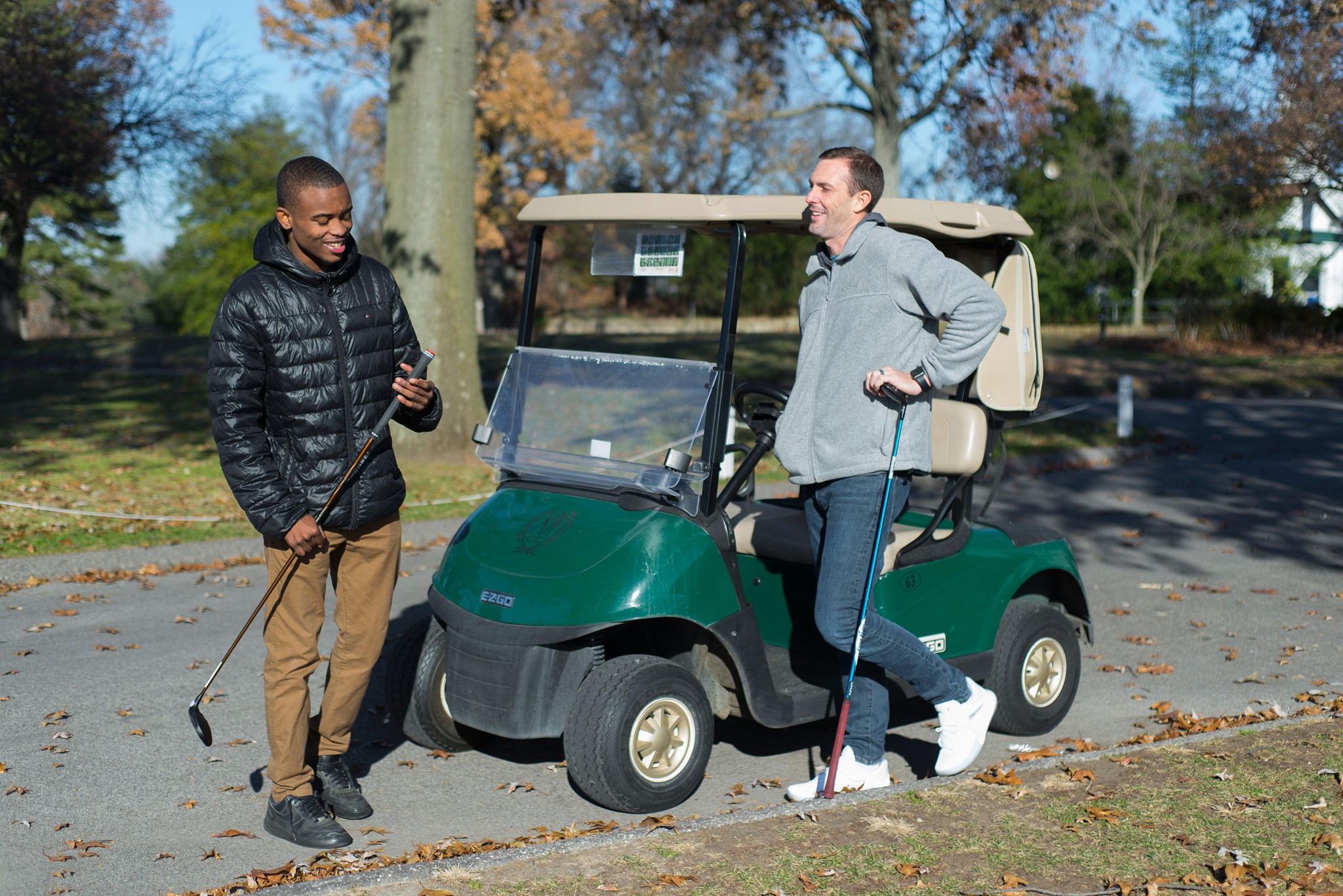 Johnathan, you lived just a few miles from where the unrest in Ferguson occurred. How did the two of you approach that together?
Adam: Johnathan was at that age where you had to take the filter off. So we had real conversations. We drove down those streets together. We both understood that the damage wasn't what any of us wanted to see happen, but we also understood why people were angry.
I knew Johnathan was angry, and he wanted to express that. He was going to have friends and classmates participating in protests. I wanted to make sure he did it in a way that would keep him safe.
Johnathan: I feel like we shouldn't separate ourselves by color. We should all come together and give each other a chance. We all want to be successful in life and beat the stereotypes over us.
Johnathan, you've become part of Adam's family and even came to his wedding. What does that mean to you?
Johnathan: It made me feel great. When I go over there, I try to make sure that I spend time with the kids because they're basically my nephew and niece. I try to treat them like family. I try to play with them and stuff like that. Shannon and I have conversations, and I feel like she's doing a great job as a mother and as a wife. I really respect that Shannon is willing to come to the things that involve me. If there's a graduation or something, she tries to be there, and I really respect her.
Do you think your relationship will continue through Johnathan's time in college?
Johnathan:  Yeah. I don't see why we should stop now. I feel like he's been one of the most important people in my life as far as getting me through my life, so I wouldn't want to just leave him in the dust, just because I'm grown.
Adam: Big Brothers Big Sisters has this extension program, Big Futures, that continues to support them into their first career. I think that's great because there's still going to be a resource for Johnathan. But I think that, with Johnathan and me, whether there was that piece or not, we're always going to go beyond the end of the program.
But college is a different world. I'm excited to see how he'll adjust. He's always had a great level of self-motivation, so it's not surprising he excels at academics. He's always put focus into that.
Johnathan:  I understand that I'm probably not going to be perfect. I'm probably going to get off track, but I always was the type of person to keep my grade point average up. I always try to aim for 3.5 and above, and I stayed on there pretty much since fourth grade.
Adam: I think this is just the next step in our friendship. It's like friendship without the training wheels now. We've talked about what it would look like for him to be a mentor and how I could continue mentoring through his mentorship.
Johnathan, what makes you want to be a mentor?
Johnathan:  I feel like I'm already a mentor. I feel like everybody's a mentor. Some people don't know some things, and our younger generation knows some things that the older generation doesn't know. But I feel like I'm a very powerful thinker and very powerful talker and a good person to vent to, and I'm a fun person as well. So, if they need to talk about anything, I will always be there for them.
Take action now:
Share this story with friends and family!
Photos courtesy of Tyler Small/BBBSEMO