Regina Greer on making connections and lasting change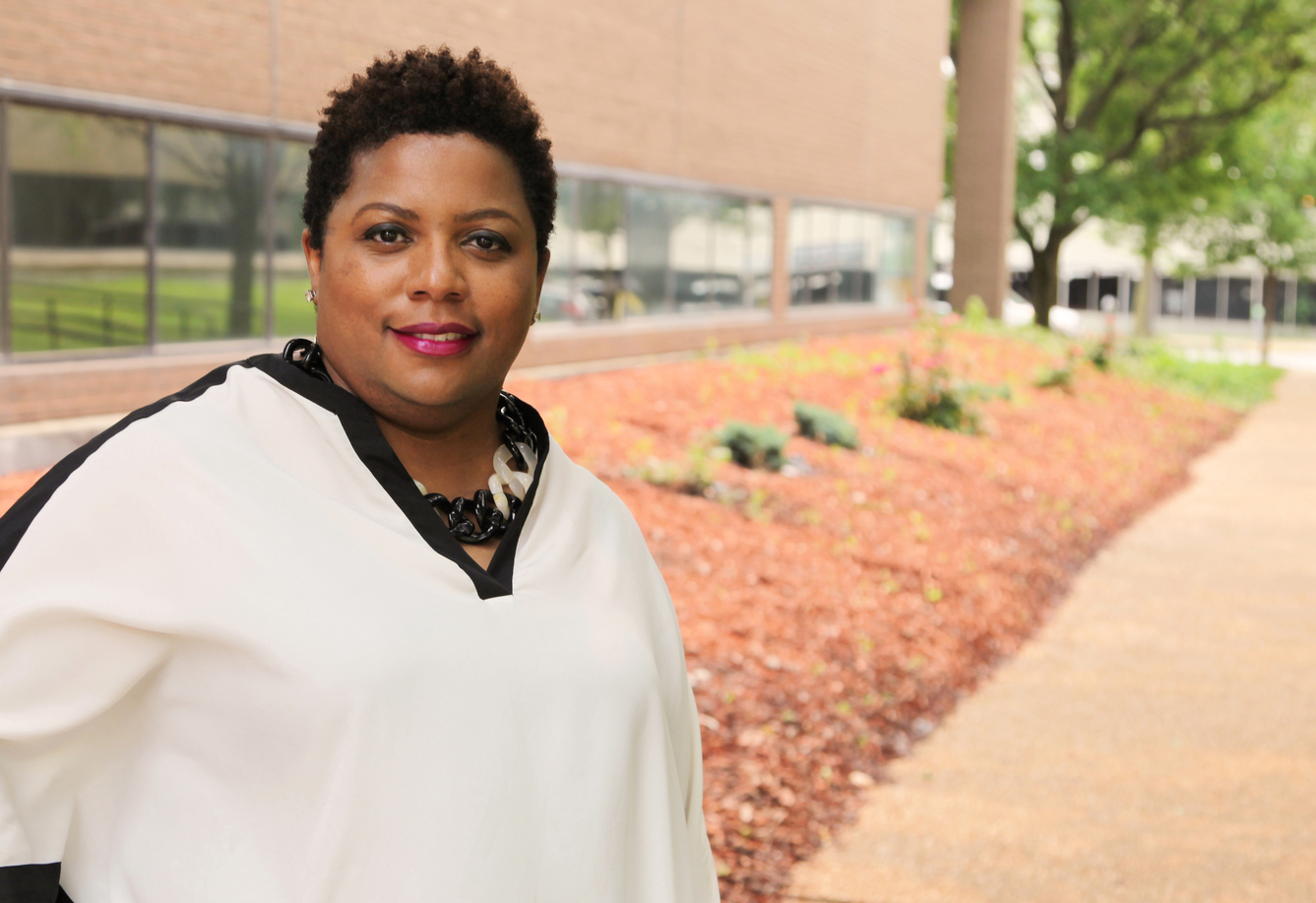 United Way has always been there to connect local people to what they need, but the ways it touches people and the ways in which it needs to connect have grown and changed over the years.
In her nearly 10 years at United Way, Regina Greer has seen that growth firsthand.
Now, as senior vice president of community partnerships, she directs programs like United Way 2-1-1, IDDHelp.org, 100 Neediest Cases and Ride United, as well as customer service support for Salesforce.org Philanthropy Cloud and United Way's community partnerships.
Regina was recently named a winner of St. Louis Business Journal's 2019 Diverse Business Leader Awards. While she's honored to receive it, she did not expect the personal recognition – because for Regina, making connections and helping to create the conditions for change is just what she does.
We sat down with Regina to learn what motivates her and how United Way works to understand and address our community's most pressing issues.
Tell us about your path to your current role at United Way. How has your previous experience helped you in your position now?
In my life before United Way, I was in the private sector within two different industries. My prior experiences in customer service and client relationship management, as well as project management and some contract compliance, are all skills and experiences I use today. That's helped [United Way] grow to where we are now, going beyond the status quo and creating new product and service lines to help more people and to fulfill our mission.
What is your motivation for doing this work?
An intrinsic need to help people. I have a passion to see the world around me get better and to see process improvement throughout the community. As I look at the ways we impact lives every day, we talk about how things can get better, but the actual ability to influence and drive real change beyond the discussions – that drives my work.
Tell us about the need for United Way 2-1-1 in the region.
2-1-1 grew out of a pressing need for people to be able to be connected in real-time to resources and supports for their daily lives. United Way has always connected people, but the need to grow along with the world around us and to be able to respond to time-sensitive needs of citizens helped form United Way 2-1-1 as a program and service.
People need services and 2-1-1 really is life-changing for those who don't know where to turn on a daily basis or even most days. It's not just for people who are in need because of low income. 2-1-1 has something for everyone. We have over 30,000 programs and services to which we can connect our neighbors in this region. Most importantly, people can talk through their problems, get solutions and move forward with a plan when they hang up after speaking with our navigators. We have the most up-to-date, innovative and informed resource database (and access tools) in the entire region and state. It's a tool that the community can count on 24/7, and if we did not have it, I don't know what people would do.
Our region experienced some flooding and other severe weather in the past year. What is 2-1-1's role during times of disaster?
United Way 2-1-1 serves 99 counties in Missouri and nine counties in southwest Illinois. When disaster happens, we do two things: We maintain normal services we're providing to unaffected areas, and then we go into proactive, all-hands-on-deck management mode for disasters.
We have a multifaceted response 24 hours a day. We complete disaster intakes for folks who have been impacted, and we supply data on unmet needs and impact to community leaders who need this information. Also, we use our United Way framework to connect with individuals, bring together partners, participate in or lead multi-agency resource centers, and convene the resources people need to return to stability.
2-1-1 call centers across the nation collect data for real-time reporting via 2-1-1 Counts. Tell us more about why data is so important.
2-1-1 Counts is one of the most important tools we have. It helps us to demonstrate 2-1-1 as the true barometer of community needs by coalescing our data for consumption. When people look to United Way, often they're looking for help determining what the community is facing – where are the gaps, and what do people need? 2-1-1 Counts is a great anchor in that because it is a self-reported, real-time needs assessment every single day. It allows us to have a pulse on any zip code, county, city and congressional district we serve.
It's available to the public, too. I often say if people want to know what's going on in their own backyard, they can go to 2-1-1 Counts!
What does being named one of St. Louis Business Journal's 2019 Diverse Business Leaders mean to you?
It was a humbling award that I was not expecting! I never expect to be recognized for the work because the work is what I do. My hope is that people don't see the person. Hopefully, they see the work, see where the needs are, and see what else we need to do, because as long as there are people in need, we have work to do. Hopefully, that work inspires others to want to join in and keep making things better. That's what I want most out of it.
What excites you most about 2-1-1's future and United Way's future in our region?
The Community Needs Assessment excites me. We now get to have a bigger, broader scale in terms of need that's being told community by community. When we look at United Way of Greater St. Louis' 16-county service area, we know that every community is not the same. Crafting a strategy to address community needs doesn't have to be one-size-fits-all. We'll be able to make even more targeted and more informed investments and impacts.
We want United Way to continue being successful and to grow and be flexible for those needs. 2-1-1 is going to match up with those needs and be a good predictor when we see what the data is telling us every single day. It will be a very valuable tool.
Also, it will help inform how we continue morphing and changing. It's important that we connect people how they need to be connected, that we're able to leverage and uplift services to match those emerging needs that we're going to see too, and then hopefully be able to have even more customized strategies to support that holistically for every community.
What excites you most about the St. Louis region's future?
People need to be moved from crisis to stability. I'm driven by that as the next level of work that we need to do via new solutions, such as the Community Information Exchange initiative with 2-1-1 at the center of that. But it needs a transformational, system-wide change with how we approach the work, how agencies approach the work, and how we move from episodic to proactive engagement with clients.
Our region's future is bright and ripe for transformational change. Our neighbors are beyond ready for it. The exciting part is to help drive that change. I believe that the time is now, that if we start to harness partnerships and true collaboration, our regional goals and a focus on regional outcomes, we can move the needle to something really positive for all of us.
Take action now:
Need help or know someone who does? Contact United Way 2-1-1 by dialing 2-1-1 or 1-800-427-4626, or by visiting 211helps.org.
Browse 211 Counts to learn more about needs in your community.

Share this story with family and friends.