Whether you're looking to save on household goods or update your wardrobe with unique pieces, visiting a thrift store is a great way to find the perfect bargain.
And recently, in the wake of the popular Netflix series "Tidying Up with Marie Kondo," which teaches viewers to organize their homes and purge their closets, many thrift stores are reporting upsurges in donated inventory – which means more to choose from!
Luckily, many United Way supported agencies operate thrift and resale shops that support their missions, making the experience a win-win for shoppers.
Ready to start your bargain hunt? We rounded up some of the charity thrift stores in the St. Louis region to help you shop smart while giving back.
The Angel Boutique not only funds the programs and services offered by Guardian Angel Settlement Association, but also functions as a job training site for unemployed and underemployed people, providing retail work experience and employment references.
Store location: 2700 Cherokee St., St. Louis, MO 63118
Hours: 11 a.m. – 7 p.m. Tuesday – Saturday
Donations: Donations accepted at the store 9 a.m. – 4 p.m. Monday – Friday; 12 p.m. – 6 p.m. Sunday
Established in 1859, Guardian Angel Settlement Association follows the settlement house philosophy of neighbors helping neighbors in communities across the City of St. Louis. The agency provides community-focused programming for children, families, seniors and individuals, including emergency assistance, self-sufficiency programs and early childhood education.
The Shelter Shop is primarily operated by volunteers, and proceeds help support the programs and services of the Violence Prevention Center of Southwestern Illinois (VPC). In addition, clients in need of emergency clothing and/or other items receive vouchers to shop for free.
Store location: 2C Belleville Park Plaza, Belleville, IL 62226
Hours: 9 a.m. – 6 p.m. Monday – Friday; 9 a.m. – 4 p.m. Saturday
Donations: Donations accepted at the store 10 a.m. – 3 p.m. Wednesday – Saturday
For nearly 40 years, VPC has been a leader in providing safety, shelter, support and guidance to survivors of domestic violence. Serving more than 1,600 individuals each year, VPC is a trusted partner with local law enforcement, legal agencies and other community resources to protect and support all those seeking refuge from abuse.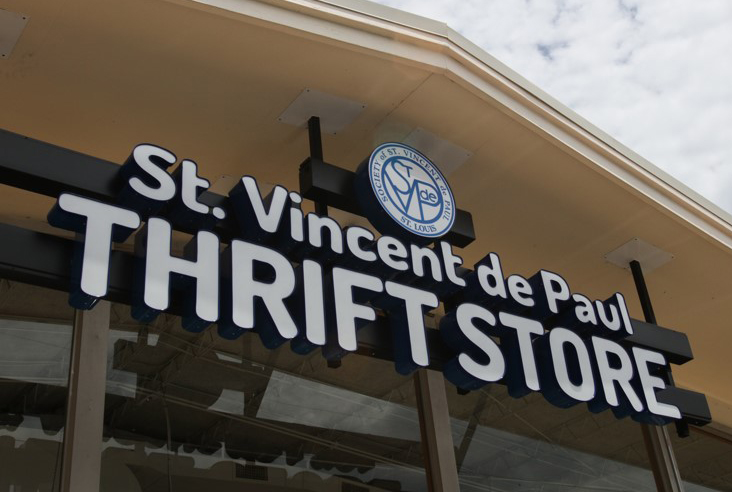 In addition to generating revenue for the Society of St. Vincent de Paul, the agency's thrift stores provide essential items like clothing, furniture, mattresses and household items to people in need.
Store locations: Nine locations across the St. Louis region
Hours: 9 a.m. – 8 p.m. Monday – Saturday; noon – 5 p.m. Sunday
Donations: Donations accepted at most stores 10 a.m. – 5 p.m. Monday – Saturday; call (314) 881-6006 to schedule a furniture pickup.
The Society strives to meet people's basic needs and promote financial independence by providing services to feed, clothe, help, heal and shelter those in need across our region. Volunteers make home visits to provide person-to-person services, including arranging utility and prescription drug assistance and assisting with housing and transportation needs.
While all of MERS Goodwill's retail stores feature deeply discounted prices, Goodwill Outlet Stores are a completely different experience fit for the most committed thrifters. Merchandise is stored in large bins and priced by the pound. Each bin is only available for a limited time, so customers dive in to quickly claim their treasures. 
Store locations: 44 locations in the St. Louis area in Missouri and Illinois
Hours: 9 a.m. – 8 p.m. Monday – Saturday; 10 a.m. – 6 p.m. Sunday
Donations: Numerous donation centers are located across the St. Louis area in Missouri and Illinois.
MERS Goodwill's mission is to provide opportunities for people with barriers to employment to work and live more independently in the community. It offers career counseling, skills training, education and literacy programs, employment services and more. Its vision is a community where everyone has the opportunity to learn, work and achieve their greatest potential.
ReFresh is a fashion-forward resale boutique selling top fashionable clothes at reasonable prices, with proceeds benefiting the Foster & Adoptive Care Coalition. Youth in foster care can purchase clothes at ReFresh at a 90 percent discount, and each spring, ReFresh is home to the Cinderella Project, which invites girls in need to come shop for the perfect prom dress at no cost.
Store location: 1710 S. Brentwood Blvd., St. Louis, MO 63144
Hours: 10 a.m. – 6 p.m. Monday – Saturday; noon – 5 p.m. Sunday
Donations: Donations accepted at the store during operating hours. Donations of formalwear for the Cinderella Project accepted year-round.
The Foster & Adoptive Care Coalition strives to create permanency in foster children's lives by recruiting and supporting foster and adoptive families in the St. Louis region. It works to ensure that each child in foster care has an opportunity for a healthy, successful life by providing safe, nurturing homes and a support system for foster and adoptive families.
Take action now:
Learn more about the nonprofit agencies we support.
Share this story with friends and family!